Showcase your knowledge, experience and credibility with the Learning In Action EQ Practitioner Certified EQ Badge.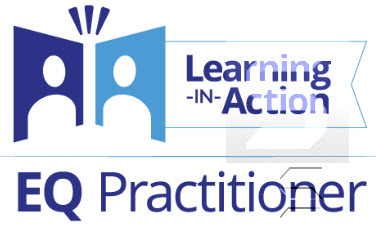 Psst...Does the EQ Badge above look a little funny? That's because it has a watermark. Once you log in and download the authentic EQ Badge, it won't have the watermark you see here. Cool, huh?
This Learning in Action EQ Practitioner credential signifies that you're a leader in the field of emotional intelligence and sets you apart from your peers.

With emotional intelligence being so essential for success in most any endeavor, your EQ credential shows prospects and clients alike that you have the expertise needed to help them achieve their goals. And it is important for you to have the ability to communicate your expertise in a clear, concise manner.
How can you do that? Your Learning in Action EQ Practitioner Badge is a great way. This EQ Badge, available only to Certified Learning in Action EQ Practitioners, can be used in a variety of locations in order to show your clients and prospects, at a glance, that you have earned a special qualification and enhance your credibility. Plus, we think it looks just plain cool.

You can use your EQ Badge pretty much anywhere you present yourself professionally. Here are some ideas:

Email signatures
LinkedIn profile
Your website
Business cards
Professional brochures
Biography sheets
Speaker sheets
Engagement proposals
Presentations
In this free mini-course on how and where to use your EQ Certification Badge, you will find:

Downloadable Certified Learning in Action EQ Practitioner Badge image file
Tips on where you can display your EQ Badge
A downloadable document with information on how you can display your EQ Badge in a variety of settings
Simply Enroll (its free!) for access,
After enrolling for your EQ Badge, please view the brief video tutorial we have created which will help you navigate this Teachable page and download your EQ Badge file.