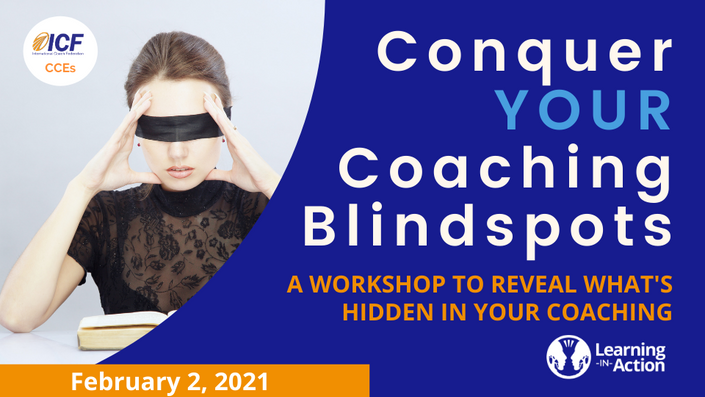 Conquer YOUR Coaching Blindspots
A Workshop to Reveal What's Hidden In Your Coaching
We each are our own first client.
Because...we can only take clients where we have gone. And if we have blindspots, aspects of ourselves that we can't see, they are sure to show up in our coaching in ways that are unlikely to serve the client.
We have a responsibility to learn our blindspots, our patterns of sensing, feeling, thinking, and wanting so that they don't negatively impact our clients.
Through this course, we'll reveal your internal experience patterns that lie largely outside of your awareness and give you a deeper understanding of what you can't see about yourself. Using one-on-one coaching specifically for you, we'll take a deep dive into the specific aspects of your internal experience that affect your coaching. Through this personalized approach, you will begin to discover where and how your unconscious narratives and patterns show up in your coaching and how that affects your ability to work with your clients at a deep, more meaningful level.
By becoming aware of our patterns and their related narratives, we can stop them from getting in the way of our coaching and be present with our clients in all-new ways that transform our coaching and elevates our impact.
Join us for this immersive course to explore your unique individual blindspots and see new possibilities in yourself and your coaching. You'll experience personalized learning through one to one coaching sessions, live training sessions, and learning partners, and you'll gain an awareness of the unique blindspots that may be impacting both you and your coaching.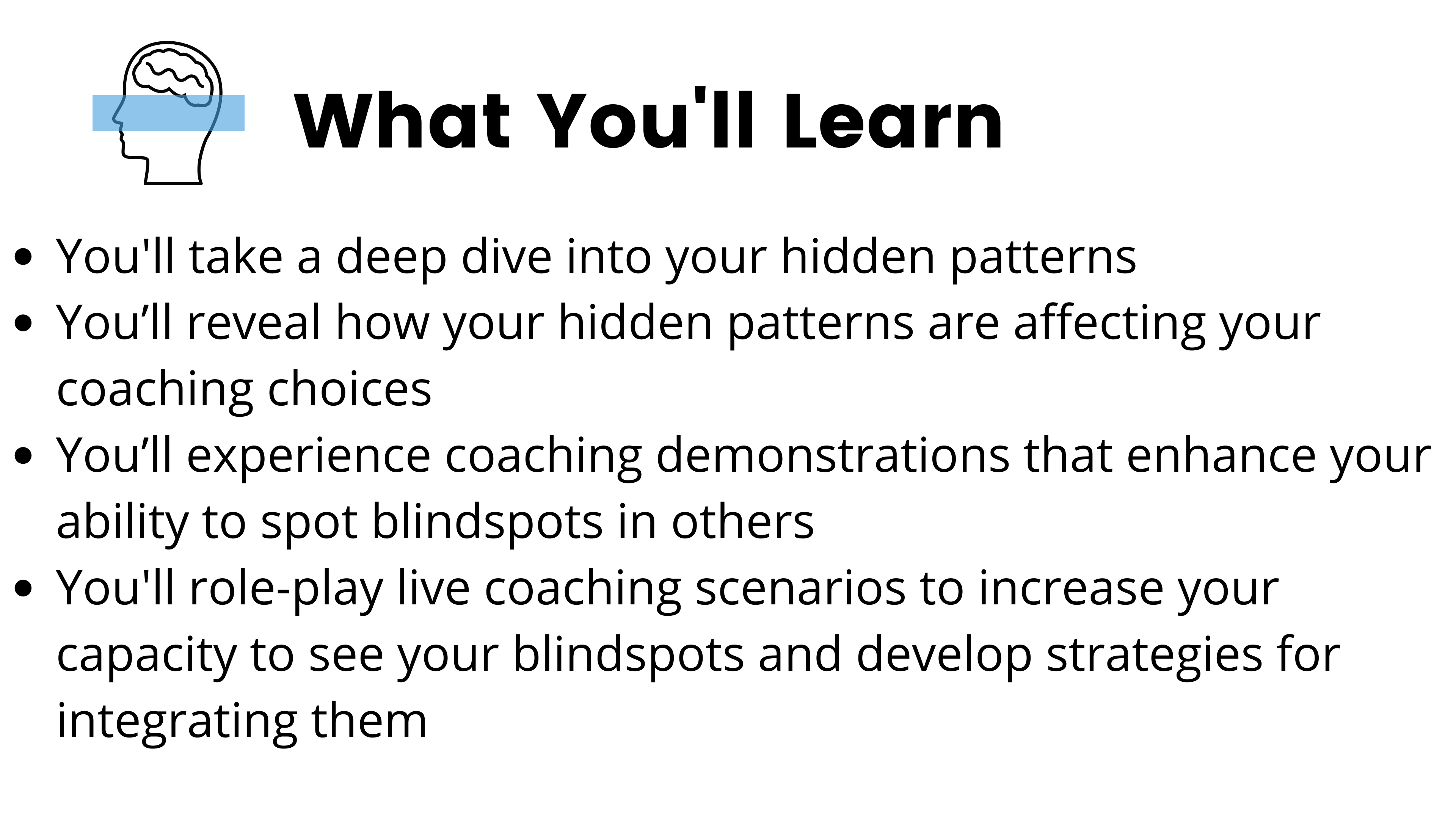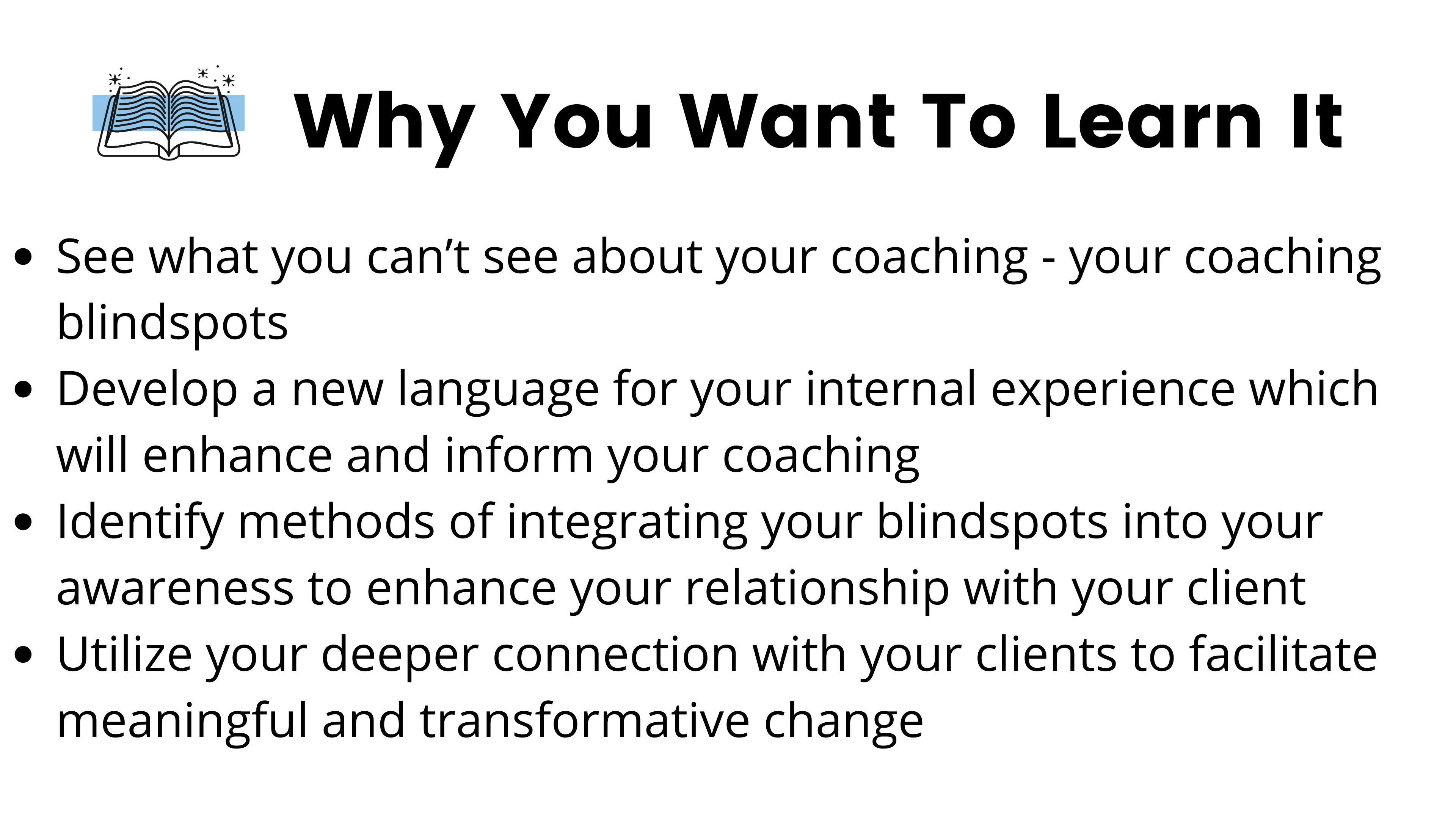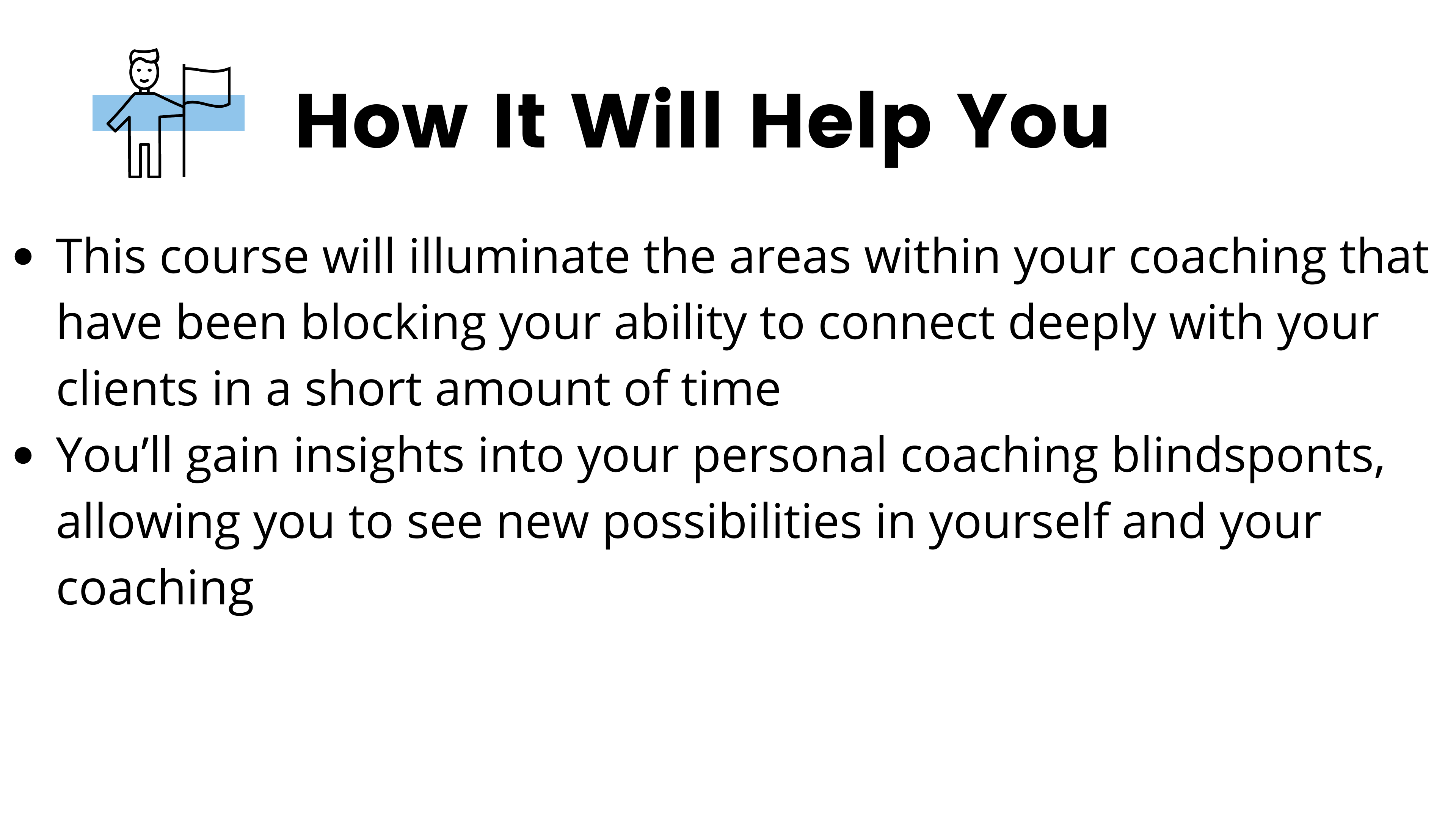 Join Us on Tuesdays, February 2, 9, 16, 23 & March 2
10:30am - 12:00pm PT | 1:30pm - 3:00pm ET.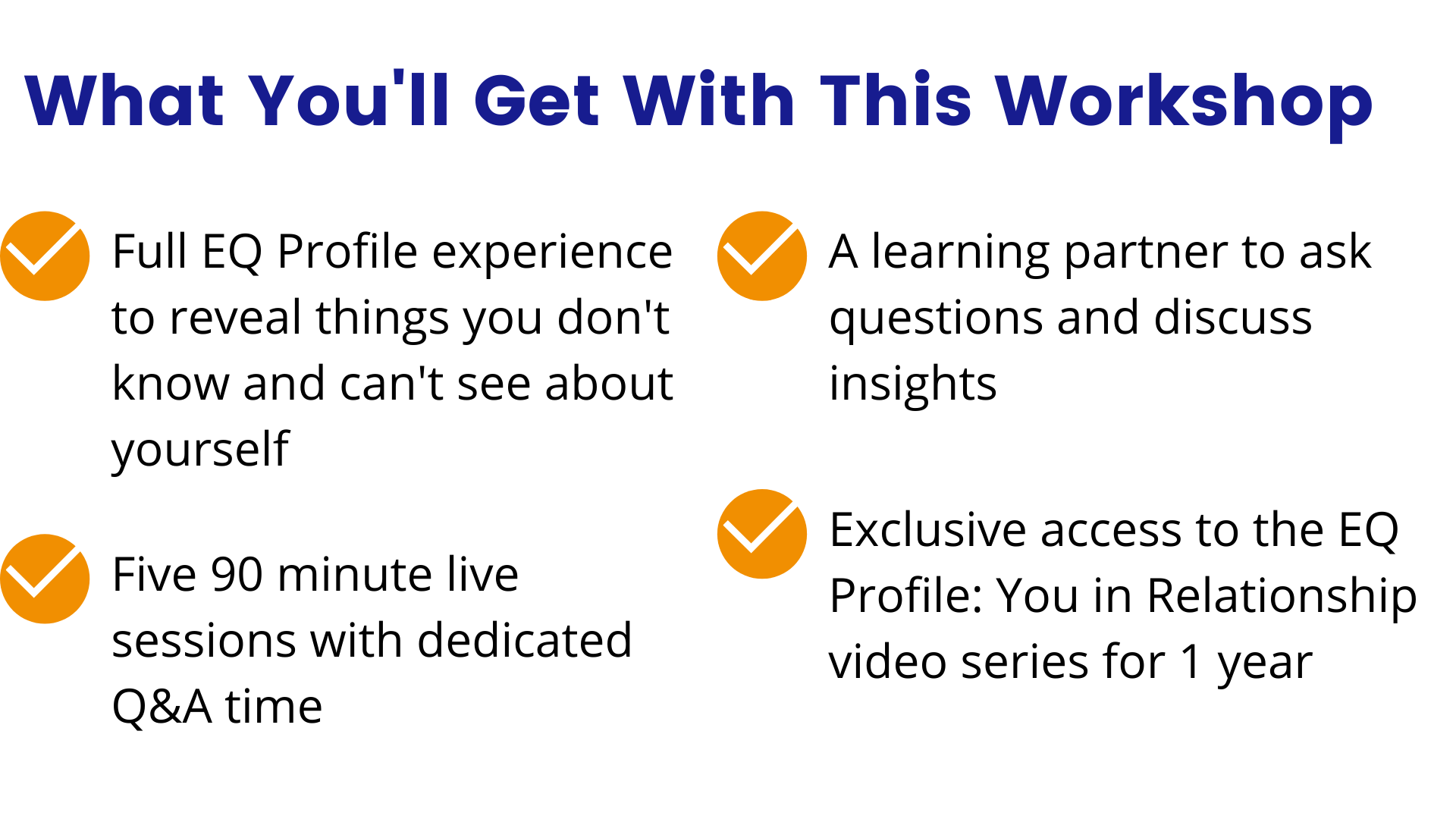 About the EQ Profile

The EQ Profile captures our conditioned internal responses that inform and motivate our behaviors. It reveals the patterns that drive our actions in ways that feel "right" to us in the moment and turn out being obstructive or even destructive for us over time.
We created the EQ Profile to reveal what we don't know and can't see about ourselves. Because when we are aware of our habituated patterns, we can bring more conscious choices to them, change them and our relationships, and, in doing so, our lives. We don't have to live out the "default settings" created by those in our past when we had no choice of our own. We can live a life of conscious choice supported by new awareness generated by the EQ Profile.
The EQ Profile is a simulation that captures our internal experience under stress in real-time. It takes about 40 minutes to complete. Once completed, you'll be paired with a small group and Master EQ Practitioner so that you can uncover the most significant awareness available to you from your results.
Who We Are | Our Mission
Learning In Action offers coaches, individuals, teams, and organizations practical tools and methods for enhancing Emotional Intelligence in relationship, real-time. We primarily serve leadership development consultants, executive and life coaches, trainers, educators, and leaders who understand they play a key role in developing individuals and teams to be their best.
Our mission is to heal the divide within and between others, and we accomplish this with our assessment tools, publications, and consulting / training programs.
After all, healing the divide starts within ourselves so we can go out and support transformative change in others.
Your Instructor

Alison Whitmire is the President of Learning in Action (LIA), a company committed to healing the divide within and between people. We believe we can become divided from our divine essence (and similarly divided from others) in ways we don't know and can't see. We aim to heal the divide by cultivating loving awareness for ourselves, others and the world.
Alison is an authority in Emotional and Relational Intelligence, a Professional Certified Coach, a Master EQ Practitioner, a Certified Narrative Coach, and a Certified Mindfulness teacher. She has thousands of hours of experience coaching entrepreneurs, CEOs, and business owners and is certified as a 200 RYT Yoga Teacher, a TEDx speaker, and a 3 time TEDx Conference organizer.
---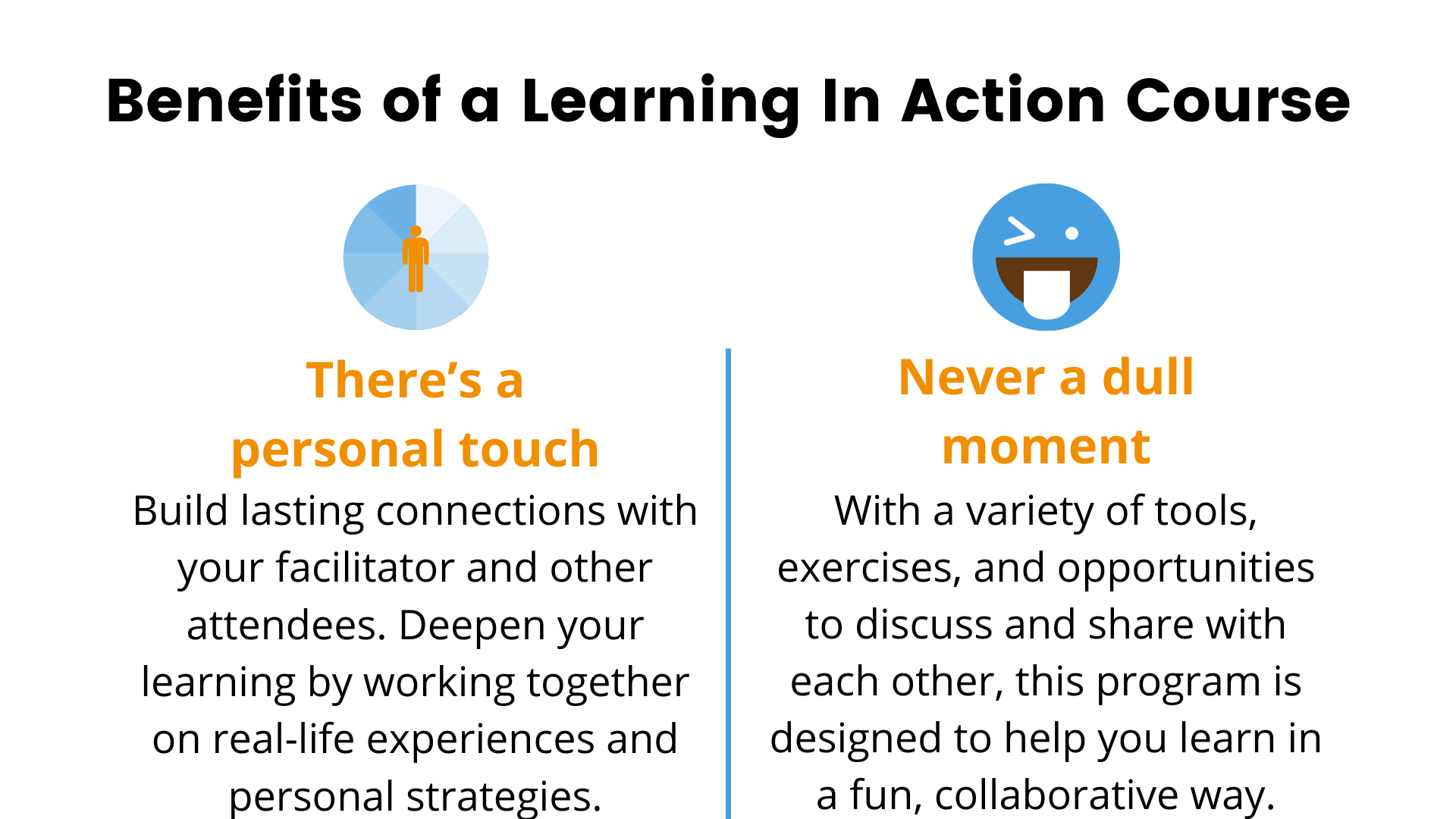 Training Schedule
Tuesdays, February 2, 9, 16, 23 & March 2nd from 10:30am - 12:00pm PT | 1:30pm - 3:00pm ET.

Pre Work - EQ Profile Experience
This deep-dive course includes access to take the EQ Profile and receive a group debrief with a certified EQ Practitioner. You'll also gain access to our EQ Profile: You In Relationship video series.
Session 1 - Coaching Blindspots: What they are, how they form, why they stay
This introductory session includes a comprehensive exploration of the EQ Profile tool, exploring how it was created, its measures, and how it's insights are revealed. We'll discuss our common coaching patterns and how they impact the choices we make with our clients every day. We'll take an in-depth look into why and how we can miss our patterns and their relationships to our thoughts, wants, and feelings.
Session 2 - Common Coaching Blindspots: Blindspots by Type
In this session, we'll take a look into the most common types of coaching blindspots and the impact they have. We'll use interactive live breakout sessions to discuss our insights and glean from each other's perspectives.
Session 3 - Your Coaching Blindspots by Dimension

In this session, we'll discuss and explore how to identify and overcome our own blindspots within our coaching as well as helping our clients see theirs.
Session 4- Spotting Your Own Coaching Blindspots
In this session, we'll use a unique and interactive role-play approach to further identify blindspots and discuss in live breakout sessions what internal blindspots may be coming up in our response.
Session 5 - Revealing Your Coaching Blindspots: Live Trainee Role Play
In our final sessions, we'll review all of our learnings and have live large group Q&A time. You'll receive a personalized summary of where to look for your own blindspots.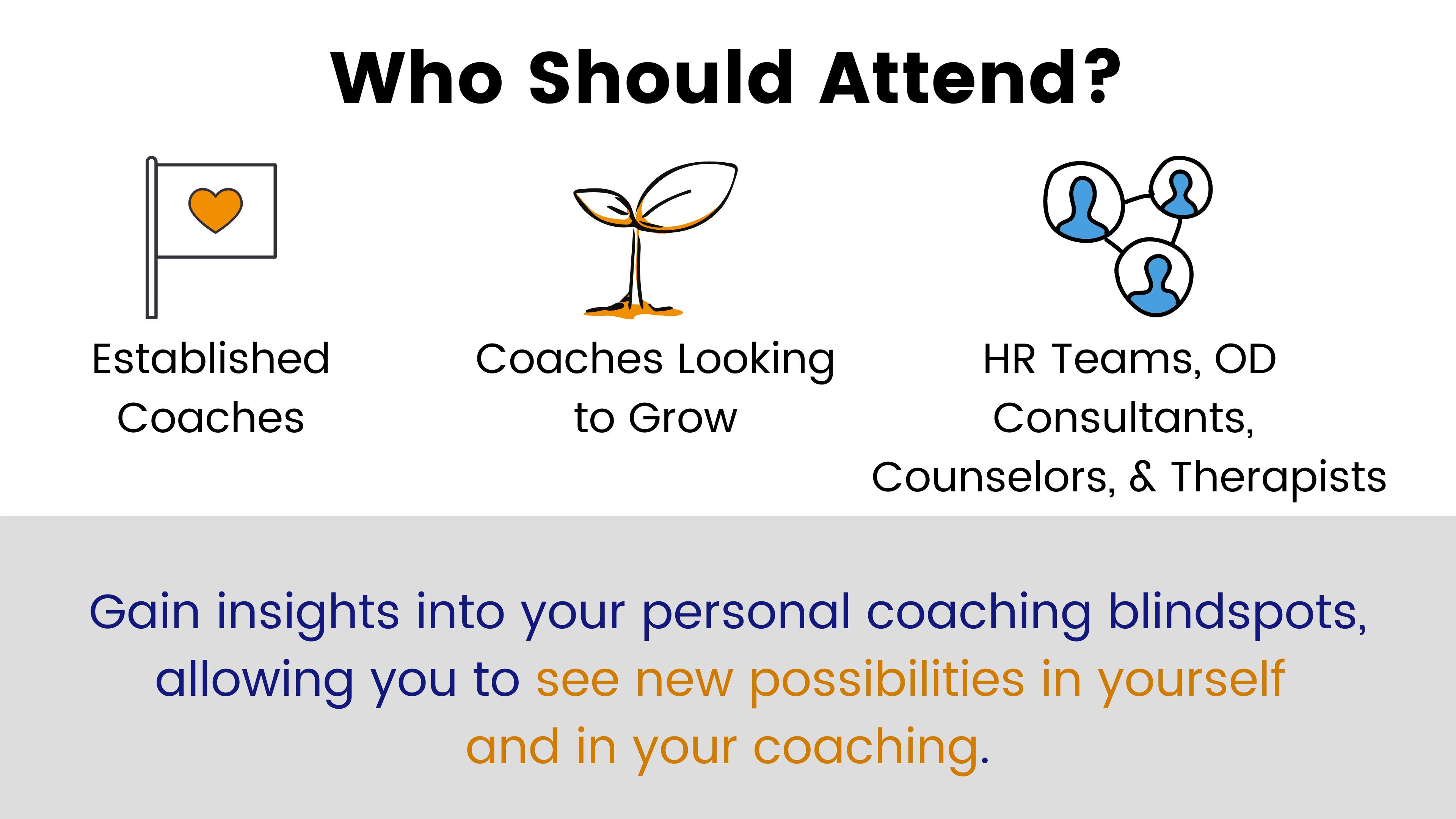 Join us for this face-to-face, experiential training to support your coaching, yourself, and your clients.
Frequently Asked Questions
When does the course start and finish?
These live classes will be held on Tuesday, February 2, 9, 16, 23 & March 2 from 10:30am - 12:00pm PT | 1:30pm - 3:00pm ET.
How long do I have access to the course?
On-demand viewings of live classes will be available in your course curriculum on Teachable for 1 year.
What happens if I have a schedule conflict with one of the live classes?
Each live, virtual class will be recorded and accessible for on-demand viewing in the course curriculum.
Can I encourage a colleague to register? If so, what is their cost to attend?
Yes, we encourage you to invite colleagues who would also benefit from this course.
This course is closed for enrollment.