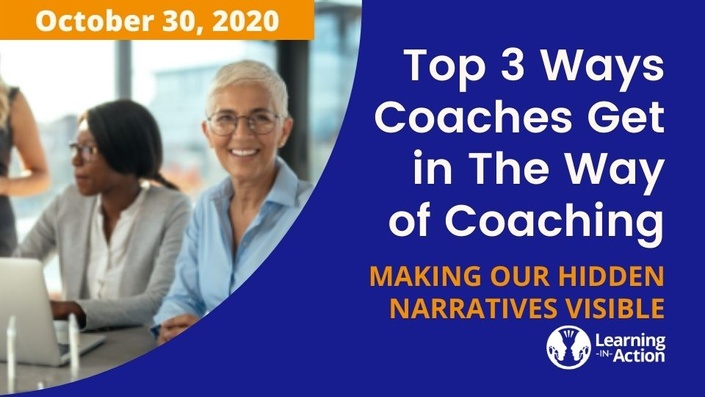 Top Three Ways Coaches Get In The Way of the Coaching
Making Our Hidden Narratives Visible
Top Three Ways Coaches Get In The Way of the Coaching
Through this interactive class we'll provide you with a unique lens for identifying how we might be getting in the way of our coaching by revealing some of our most common coaching blindspots. We'll take you on a journey through the coaching space of client and coach, simulate coaching exchanges to mine our experience for blindspots, and learn ways to minimize them.
We'll be partnering with each other in dyads to explore our internal reactions to stressful coaching situations. We'll explore how those reactions are a reflection of our patterns of thinking, feeling and wanting that are largely outside of our awareness and affect our coaching. The session is fun, dynamic, and revealing.
In this Masterclass, we'll explore:
How Our Hidden Narratives and Patterns Can Influence Our Coaching Choices

How We Might Be Getting in the Way of Our Coaching In Ways We Don't Know and Can't See

The Impact of Our Blindspots on Our Coaching
You'll receive:
A Guide to the Information and Gifts of Emotions

A Coaching Card on the information and gifts of emotions that you can use with your clients

A Feelings Inventory that you can use with your clients to support them in naming their emotional experience

Reflection Exercises (for you and that you can use with your clients) to bring understanding to our emotional patterns
Learning In Action offers coaches, individuals, teams, and organizations effective tools and methods for enhancing their coaching relationship, real-time. We primarily serve leadership development consultants, executive and life coaches, trainers, educators, and leaders who understand a key role they play is in developing individuals and teams to be their best.

Our mission is to heal the divide within and between others, and we accomplish this with our assessment tools, publications, and training programs.




After all,
healing the divide starts within ourselves so we can go out and support transformative change in others.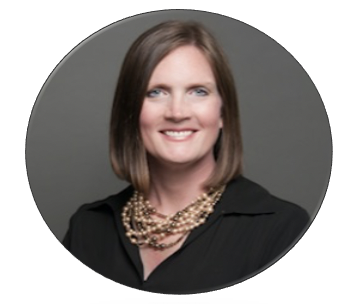 "Learning in Action's training really does unlock the ability to dive in deeply with a client early in the coaching process. It gives both coach and client an understanding and a language for the complex, inner landscape within all of us."
- Carla
This masterclass is intended for internal or external coaches, consultants, internal or external organizational development professionals, counselors, therapists and HR managers who want to expand your levels of awareness and experience greater access to your internal experience.
Your Instructor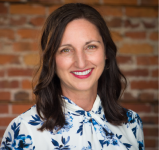 Alison Whitmire is the President of Learning in Action (LIA), a company committed to healing the divide within and between people. We believe we can become divided from our divine essence (and similarly divided from others) in ways we don't know and can't see. We aim to heal the divide through the cultivation of loving awareness for ourselves, others and the world.
Alison is an authority in Emotional and Relational Intelligence, a Professional Certified Coach, a Master EQ Practitioner and a Certified Narrative Coach. She has thousands of hours of experience coaching entrepreneurs, CEOs and business owners. She is certified as a 200 RYT Yoga Teacher and is currently enrolled in a 2-year Mindfulness Meditation Teacher training program for which Stepping into Mindfulness is part of the practicum. Alison is a TEDx speaker and a 3 time TEDx Conference organizer.
This masterclass is a part of a three-class mini-series and can be taken alone or paired with the other three classes. Each are 90-minute live, virtual sessions using Zoom.
Together, we'll engage in a face-to-face, experiential mini-training with the intention of supporting your coaching, you and your clients.
Friday, October 30

10:30am - 12:00pm PT | 1:30pm - 3:00pm ET
Frequently Asked Questions
When does the course start and finish?
The live class will be held on Friday, October 30, 2020 from 10:30am - 12:00pm PT | 1:30pm - 3:00pm ET.
How long do I have access to the course?
On-demand viewings of live classes will be available in your course curriculum on Teachable for 1 year.
What happens if I have a schedule conflict with one of the live classes?
This live, virtual class will be recorded and accessible for on-demand viewing in the course curriculum.
Can I encourage a colleague to register? If so, what is their cost to attend?
Yes, we encourage you to invite colleagues who would also benefit from this course. Unfortunately, we're not able to offer discounts on Master classes due to the nature of the event and the value offered.
Can I attend this course without attending the other two in the series?
Yes! You can attend one or all three classes in the series. These unique trainings were designed to stand alone and fit together as a series for more in depth understanding.