Invest in yourself as a coach so you can create meaningful shifts for your clients and teams in a fraction of the time.
EQ Certification Refresher
The EQ Certification Training is a hybrid learning experience combined with an in-person, highly interactive, and experiential three-day experience followed by "like in-person" live, online sessions. Our trainers facilitate a cutting-edge curriculum designed to introduce you to a unique niche of coaching that will support you in securing more coaching engagements requiring deep relational and emotional intelligence expertise.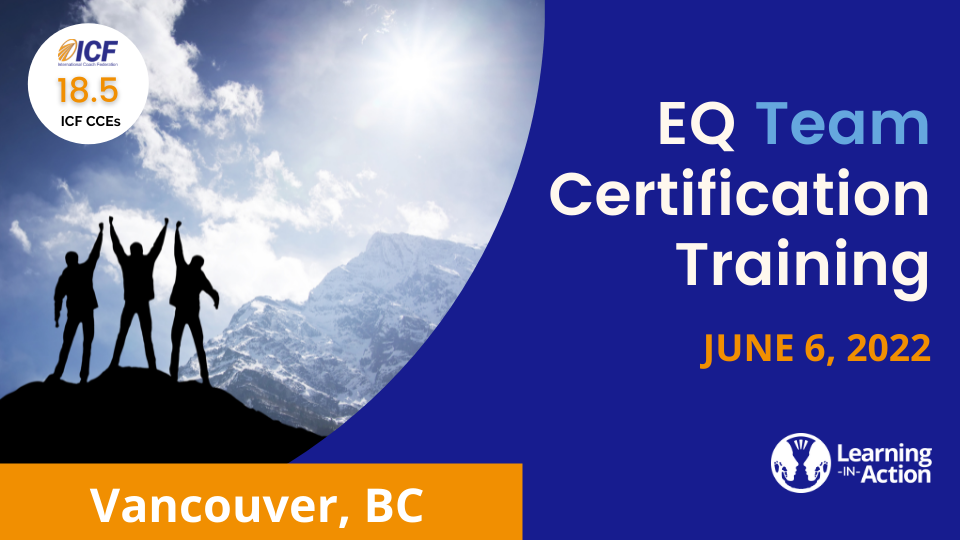 EQ Team Training
The EQ Team Certification Training is an in-person, highly interactive, and experiential one-day experience presenting a cutting-edge curriculum designed to take you on a guided journey through how to interpret the EQ Profile at a team level and an exploration of ways you can use EQ Profile Team Reports to deepen your connection with your clients and ultimately expand your professional reach.


Frequently Asked Questions
What if I can't attend all the scheduled training sessions?
It is required that the in-person session is attended. And, although we encourage attendance at all virtual sessions for best learning and interaction, we understand that you may have other commitments during scheduled training sessions. Each session is recorded so you'll always be able to keep up with the class. If you are unable to attend, you'll be asked to review the recorded session and provide your thoughts, comments, and takeaways prior to the next virtual training session.
What happens if I need to cancel or reschedule?
If you need to cancel or reschedule, contact us by email or live chat. Refunds are not available, and we're happy to apply your paid registration fee to a comparable future training session of your choice.
Are ICF CCEs available for completing EQ Profile Certification?
YES! The EQ Certification Training is an International Coaching Federation accredited program and upon completion, you'll earn 40 ICF CCE's for EQ Training and 18.5 ICF CCEUs for Team Training. CCEUs will be confirmed as we near the enrollment date.
Is lodging included?
No, you are responsible for your own lodging. We often arrange for on-site or nearby lodging at reduced group rates, for your convenience. You'll receive more information details after registering. If you need answers to specific lodging questions prior to registering, contact us at [email protected].
Travel doesn't work for me. Can I obtain my EQ Profile Certification virtually?
Absolutely! You can learn more about our next virtual training here
Is there a payment plan?
Yes, the cost of the training is divided into your choice of three equal payments that will be automatically charged to your credit card each month. You may attend the training while enrolled in the payment plan, but you will not receive your certification until the full cost of the training has been paid.
Are there safety measures in place for the in-person training sessions?
Yes, your safety is extremely important to us. Learn more about our Safety Guidelines and Policy for in-person training here.